Winter Sports Heat Up
Hang on for a minute...we're trying to find some more stories you might like.
When the snow falls most people dress in warm coats and hats. Except the Big Sky student athletes, who break out the blue and gold mesh basketball jerseys and singlets. Big Sky offers two in school sports during the cold winter months, basketball and wrestling. Although there is also a third option for student athletes, which is swimming.
For Senior, Wyatt Shinn the end of fall means more than just the start of hunting season, fall is when he trades in his football gear for a wrestling uniform. This year will be Shinn's final year as a wrestler for Big Sky, as he will be attending Montana State University next year. But the four years he spent wrestling has made an impact on his life. Wrestling is unique in the way that only two players wrestle at a time. But teamwork is still crucial to the sport. "I get connections through coaches and other wrestlers" stated Shinn.
Another unique aspect about wrestling is wrestlers have to closely regulate their weight. Being a Senior Shinn knows how to watch what he eats and frequently exercise to stay in shape. "If you don't maintain a small weight then you get put into a heavier weight class and have to wrestle someone bigger than you."
Last year boys varsity basketball lost every game, the eagles aim to turn that around this year. The basketball program is expected to have a change in performance due to their new coach. Cory Sova will be head of the boys basketball varsity team this year. Sova coached men's and women's high school basketball in Wyoming and even has a few state championships under his belt.
Senior Mckee Muralt will play his final year under the coaching of Sova. Muralt anticipates good things from the new coach, "I like the style of offense he runs. It really encourages us players to use the skills we have to score and allows us to have freedom on the court. I think he is excited for the season and of course I am as well."
Boys basketball has faced obstacles in the past, but a new coach gives a fresh start to the team and fans. "I don't think us playing hard will be a problem at all this year. But, I do think how well we play as a team will definitely be a factor in our success. Also we will just need to dig in on D every possession and just go all out cause that's where we are going to win games is on the defensive end." Muralt has a positive outlook on the upcoming season and hopes to change Big Sky's previous losing streak.
The third winter sport is swimming. Students from all Missoula high schools can be involved because it is a club sport.
Junior Hannah Jourdonnais, has been part of the swim team for ten years and notes the many differences of participating in a water-based sport. "Swimming is an individual sport, we practice as a team but when it comes to the pool we are all rivals."
Swimming is also unique because it's a co-ed sport. Jourdonnais said "It helps everybody be way more social and comfortable around the other gender and everybody has respect for each other. There is still time spent with just girls and just boys, so you don't miss out on that aspect either. Also, we are able to race the opposite gender in practice as well, so that helps us expect broader competition."
Being a club sport, the swimmers participate in two seasons and practice throughout the summer, "To be a competitive swimmer you have to put in more dedication and time than most other sports."
Each sport's first game will be held away on December 1. Eagles' basketball plays at Hamilton, wrestlers dual in Helena, and swimmers will be competing in Kalispell.
About the Writer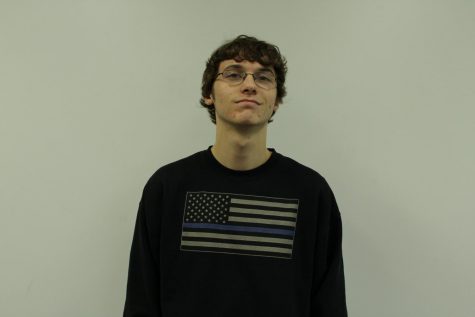 Branson Baker, Intro to Journalism
Big Sky High School student

18 year old

I like basketball