The Amazing Cabaret
The Drama Department puts on an Awesome Show
Hang on for a minute...we're trying to find some more stories you might like.
The Cabaret show ran this weekend on Thursday, Friday and Saturday in the Big Sky auditorium. Everything in the show's atmosphere was really great: everything from the small chatter of the people waiting to be wowed to the song "Take It Easy" being played in the background by the super talented sound group.
To start the show out, everyone in drama classes came out on stage to perform a dance that was well organized. All of the dancers were well suited with the dance and even though it was the first time this year performing it they seemed confident. And you could tell that the audience was already tuned in and amazed by the well planned out lights, music and action.
As many people know already, the Cabaret show is a show where each individual person can show off their talents–show that they can do something spectacular, hilarious, or just beautiful. Haven Moss on the piano and Abby Racicot, Emma Blonda and Bailey Carlson on vocals had some of the most beautiful voices and piano skills backed with all the confidence in the world. These were by far some of the most heartwarming performances. But props go to Haven Moss, playing three of what sounded like really hard songs to play.
Some of the funnier performances of the show were performed by Max Smith, Jacksun Amaya, Walker Winterburn and Emma Blonda. They performed in Three-headed Professor And Camelback, two skits that were absolutely some of the funniest ever.
In other words, great job to everyone in the show and the drama department. Fun fact about the Cabaret Show: It started out as a senior idea. "Seventeen or eighteen years ago, "I don't know how long it's been, it started out as a senior project," said Sarah DeGrandpre.
And ever since then the drama department has put on a show every year. Presumably all were awesome. But a show like the Cabaret doesn't just fall into place. You need to spend a lot of hours to set it up. "There are props and makeup and sound and lights" said DeGrandpre.
Sarah DeGrandpre was on the stage with others on Saturday from twelve to eight thirty just getting the stage prepped. That was only one day.
That hard work definitely showed through when they performed. Which is saying something because there was a lot of different acts. This means that there is that much more work that goes into making the show flow well. "I think the best thing about it is the wide variety of stuff going on, on the stage," said DeGrandpre. Everyone definately did their part to make the Cabaret super cool, funny and amazing
About the Contributor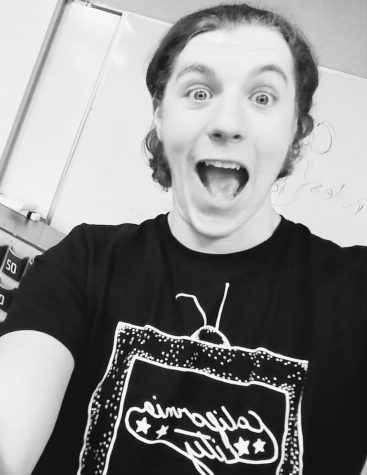 Aaron Toney, Feature editor

Hey guys, my name is Aaron Toney, some things about me are I love music, playing with my band is one of my favorite things to do.
I've got three cats...