Big Sky Three-Sport Athletes Thrive
March 27, 2017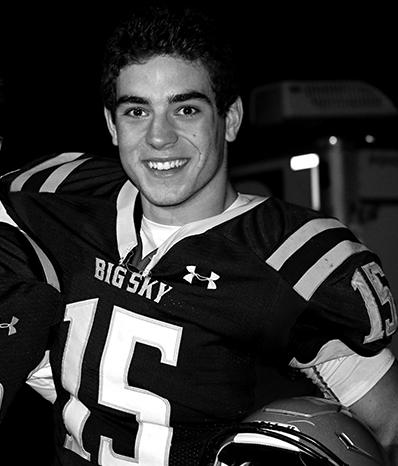 The sweat from his face is smacking against the hardwood floor as he takes the pass from his coach. He has taken this shot more than a thousand times before. However, there is more at
stake this time. He goes through his routine and takes the shot. Brick.
The team lets him hear all about his error as they run sprints for the remainder of practice. But Brady Tabish will get his chance at another shot eventually, since he will have practice six days a week until the basketball season ends in three months.
Although he gives it all during the season basketball player Brady Tabish isn't just your run of the mill athlete. Like other Big Sky three-sport athletes, Tabish has pushed himself mentally and physically to the bone to be as good as he is. For these few but talented three-sport athletes, it may be harder than you think at first glance.
A Balancing Act
At Big Sky and overall in schools, three sport athletes aren't just more accomplishment in the other sports they play, but also in their academic responsibilities as well.
In high schools surveyed across America the average GPA for a student who doesn't play sport is 1.96. The average of a player that play three sport 2.96. A survey conducted by Big Sky's head football coach Matt Johnson found that 880 surveyed athletes had 22% higher grades than those who don't play sports.
Another important one he says is that since year round sports force you to uphold at least a 2.0 GPA to stay eligible. As a result, dedicated athletes stay at the top of their classes.
Despite this Brady Tabish no longer plays three sports. He is one of the many that feels that focusing on a sport can improve his athletic ability. There are many reasons why he doesn't though. "It's a lot of work and takes up a lot of time. I could handle it, but it's just a matter of how much time I want to myself.
In addition to that, he explained how hard just balancing everything can be. Especially with academics, which Tabish feels is the hardest part. "You can't do it all," he says.
Work Hard, Play Hard
However, there are others at Big Sky that would disagree with Tabish.
Big Sky's Mason Corcoran is one of the few three sport athletes that plays for the Eagles. Mason plays football, wrestling and track. Mason adds that his "best" sport that he plays is football. And says it's no coincidence.
In fact, every weekday during last summer you could find Mason in the Big Sky weight room. Corcoran laughs "I lived in that weight room"
The results definitely show. Corcoran had a very strong year in football. In all-purpose yards he had over 500 yards this season and was starting running back. He also got some varsity time on kickoff. Mason makes sure to keep all of his priorities straight. This is what he above all credits to his success as a three sport student-athlete.
He makes sure that his grades are in order to stay eligible to play, he is working out a sufficient amount and he is spending time with his family and friends too. "A good balance is important, but never let anything distract you from your goal," says Corcoran.
Corcoran is convinced that he will continue to improve if he stays with the priorities he already has working for him. Not just Corcoran is convinced though. Corcoran's football coach Matt Johnson would agree with the statement that just being a three sport athlete is enough in itself to keep going strong.
Mind and Body
Johnson feels that there are numerous contributing factors how three sport athletes can and have gotten so dominant. However, though, it seems that just having a few makes all the difference.
One factor he touched on was competitiveness. Many times, he claims, many players lose that spirit when they aren't playing. Even if they are playing, he says, a lack of competitiveness in the sport they play is almost as helpful toward competitiveness as not playing at all.
In an interview conducted by Sports Illustrated, Arizona Cardinals wide receiver Larry Fitzgerald said playing three sports benefitted him.
"Today, a lot of kids individualize in a specific sport. I think one of the things that helped me most was playing everything. I played basketball, I played football, I ran track. I even played soccer one year, [and] I played baseball. I think it allowed me to recruit different muscles [and] work on different things that I normally wouldn't. And, it gave me a greater appreciation for the sport that I've come to love."
This does not mean all student-athletes that play less than three sports are destined to fail at their sports and academics. In some cases, focusing on one sport can help toward growth in that sport. It's a toss up, but through statistics it seems the few three-sport athletes are coming out on top thus far.
Johnson closed in saying how he wonders a lot about how good some players could have been if they would have played three instead of one. When asked if he thought it would affect the players in their other sports he said, "you never really can be too sure. The data shows it, but you just never know."
The Big Sky Eagles football team went five and five this year and barely made the playoffs. Eighteen out of the fifty-two players were three sport athletes.
As for Corcoran he promised that he will "continue to get huge" and continue playing all three of his sports. Tabish, however is still deciding on playing football this coming year. He picked up tennis last year and also played golf but admits it wasn't close to being as competitive as it should have been.
As of right now, he is a two sport athlete. It looks as if these two will do just fine in their future sports as long as they do what Mason says and "keep grinding it out".