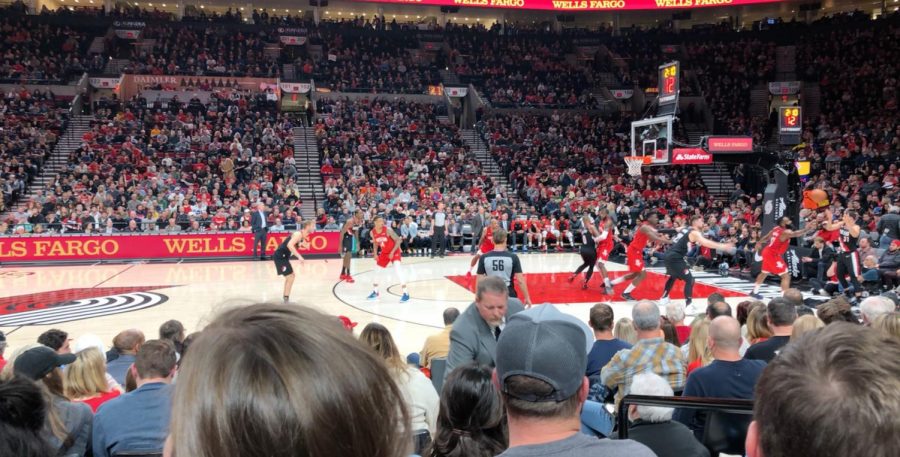 B.A. Sports Column: NBA Overview
NBA season is in full swing. Get the overview of the season so far!
January 30, 2019
The NBA season is a little under half way through, and it's been neck to neck up to this point.
The Milwaukee Bucks are at the top of the Eastern conference at 34-12 and 8-2 in their last ten. Led by forward Giannis Antetokounmpo, averaging 26.9 PPG (Points Per Game) shooting 59% and grabbing 10 RPG (Rebounds Per Game), Giannis is expected to be a top 3 for the MVP voting. The Bucks are one of the best teams not only in the East, but the whole league. It is insane to see his strides on the floor, his vertical movement is some of the fastest I've ever seen, and I would put him in the top 10 most athletic players ever.
The Toronto Raptors are right behind the Bucks coming in at 35-13 and their win percentage just .01% behind first place. The leader for them is first year Raptor player Kawhi Leonard. Leonard a 6' 7" forward is averaging 27.6 PPG shooting 50.4% and snagging a solid 7.9 RPG. Kawhi is backed up by guard Kyle Lowry who adds 13.9 PPG and 9.4 APG (Assists Per Game) almost averaging a double double. Wherever Kawhi goes fundamentals follow. I think that the Spurs will severely hurt without Kawhi and the Raptors will continue rising.
The Indiana Pacers are three games behind first place coming in at 31-15. Their scoring leadership is spread evenly throughout the team. However Victor Oladipo is a staple, averaging 19.2 PPG shooting 42.3% and 5.7 RPG, hitting many clutch shots this season in the process. Domantas Sabonis is a clear help in the paint, averaging the most RPG with 9.6 as well as averaging 15 PPG shooting 61.7% from the field and 75% from the three point line. The Pacers are a lot like the Nuggets in my eyes: below the radar and catching everyone off guard with extraordinary team play. I think they'll make a deep playoff run.
Philadelphia and Boston are neck and neck with Philly at 31-17 record and Boston at a 29-18 record. After these the gap falls down to teams below .500 winning percentage.
Next let's move to the Western conference to see their standings.
The Golden State Warriors are leading the West coming in at 33-14 and are again one of the best in the NBA. Golden State is an unstoppable team year after year. Stephen Curry and Kevin Durant both average above 28 PPG. Klay Thompson averages 21.6 PPG and that's where the scoring drops off. Hustle player Draymond Green leads the team in rebounds and assists with 7.8 RPG and 7.2 APG. They are a championship contender. With Demarcus Cousins returning from a season ending injury last season, the Warriors have All-stars for their whole starting
The Denver Nuggets are a game behind first in the West at 31-14. The Nuggets are led by both center Nikola Jokic with 19.6 PPG, 10 RPG, and an impressive 7.7 APG for a center, and guard Jamal Murray with 18.8 PPG shooting 43.3%. A center led team is rarely seen in the NBA, and very impressive. This is a team that no one saw coming as a top five team, much less a number two team. This young team handles themselves impressively well down the stretch.
The Oklahoma City Thunder are a close third at 28-18. This star-studded team is led by Russell Westbrook, Paul George, and Steven Adams. Westbrook averaging a triple double so far for the third season in a row, with 21.8 PPG, 10.6 RPG, and 10.5 APG. He is a huge presence on the court and gives his teammates plenty of chances to succeed. Paul George in a surprising comeback season is seen as a top contender for MVP, averaging 26.7 PPG and 8 RPG. Lastly center Steven Adams averages a double double on the season with 15.4 PPG and 10.1 RPG. The Thunder are definitely championship contenders this season, by far one of the most exciting to watch.
The teams following the top three are Houston, Clippers, San Antonio, and Portland. Down the stretch we will see in the upcoming months how these teams fight for top spots.