Swimmers get their feet wet
Hang on for a minute...we're trying to find some more stories you might like.
The swimmers were ready as they stepped up onto the block. Everyone's eyes were fixed on them as the announcer told them to set their feet. The loud buzzer sent the athletes into the water. The effect of the dives made an explosion of water, splashing onto the waiting swimmers.
The Butte meet was exceptionally excellent as Hellgate Girls and Sentinel boys made first place in the meet with Big Sky boys and girls following closely behind. Many of the events were amazing to watch and as well as their times.
Caden Knight, a returning swimmer and a sophomore at Big Sky high school had an exceptionally amazing time for the 50 Freestyle event. Considering that the All American time for boys is: 23 seconds and Knight got: 28 seconds. He says, "To be honest, I was really surprised by my time because at our last meet I got: 33 seconds. It's not a lot, but I'm pretty happy about it."
There is little to no competition between the three rival high because the MCPS district lets all three schools practice together. If there's any competition, it's between friends. Although it's only been the second meet out of the three-month-long sport, there's no telling what will happen. Again, Knight says, "There are so many more meets in the season. I'm just expecting to improve and get a better time and hopefully qualify for the All American time."
Not all swimmers are made equal though. Some athletes have to work harder than others and their efforts show. Eloise Mitchell, a former swimmer for the team who became a manager says, "One swimmer that really surprised me from this meet was Alex Patte. His swim during the 100 Freestyle was amazing. He improved by five seconds, which is a lot for the event." Typically this event is a very fast paced with the All American time for boys 100 Freestyle is 54 seconds, he did surprisingly well.
However, another swimmer that has shown improvement throughout the past few weeks of practice has been Madi Basile. Mitchell again says, "As a manager, I've watched a lot of swimmers during practice but Madi has definitely progressed nicely! She's swimming longer events and is even getting better times."
Swimming isn't all about times, it's about having fun too. Once again, Knight says, "Swimming is a really fun sport. It's entertaining to watch and you can make a lot of friends. I've made a lot of friends through swimming and I encourage everyone to try it."
Also, Mitchell says, "I encourage everyone to try swimming because it's not a high injury sport and it's a lifetime skill. Even if it's not for competition, it's an enjoyable thing to do."
About the Writer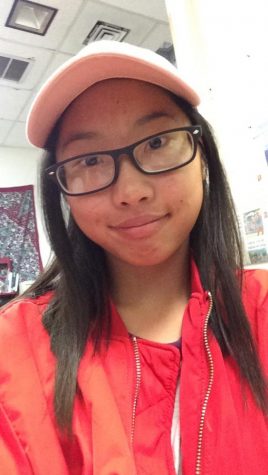 Ciashe Vang, Intro to Journalism
I'm Ciashe and I'm a Freshman at Big Sky High School. I like to write, read, listen to music of any genre, play tennis and play video games.