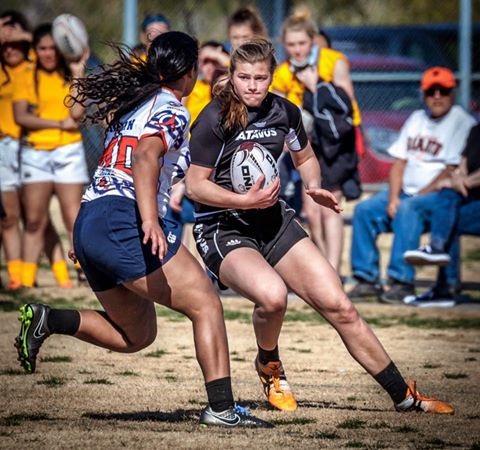 Atavus Rugby
Julia Riekena: Aspiring Olympian
Rugby is more than just a sport to this West Point-bound Senior.
May 31, 2018
Most high school seniors haven't traveled to Canada, France, Germany, and the Netherlands. Julia Riekena isn't like most high school seniors. Riekena is a five year veteran rugby player, whose talents have created unique opportunities and achievements for her. Riekena has played with The Missoula Valley Vixens for 4 years, a local female rugby team.
Rugby is more than just a sport to her, it plays a much more prominent role in her life than most would think. Her infatuation with the game is derived from a personal connection. "My brother played [rugby] and he passed away and it keeps me close to him."
She became engaged in the sport prior to high school. "I started eighth grade year because I didn't wanna play football. Because I thought it would be a little weird."
Throughout her high school career she has also participated in basketball and volleyball. But rugby is her passion.
Being a committed athlete is not only traveling a lot and missing school. It's pure dedication to the sport. And that dedication pushes Riekena towards the goal of a scholarship and a post college professional career.
"It's hard to miss so much school," says Riekena.  A student can very easily fall behind in classes, especially when involved in out-of-school sports. Although her lenient teachers tend to be solicitous and accommodate her when she struggles: They often work with her and around her flexible schedule.
Riekena frequently travels out of town during the rugby season. She has even played in numerous foreign rugby tournaments. She has competed all across the United States as well as Canada, France, Germany, and the Netherlands.
Missing copious amounts of school can be a tremendous challenge but she has proved that she can overcome obstacles of any size. Riekena carries her hard work ethic and positive attitude over into the classroom. She maintains a high grade point average and will be attending West Point Academy, a prestigious military school in New York. That has produced highly successful public figures, including President Dwight D. Eisenhower, Buzz Aldrin, and Edgar Allan Poe. West Point is known for intelligent, strong leaders with integrity and drive. Riekena is one of those people because of her commitment and passion with whatever she does.
A well-rounded player such as Riekena looks up to several role models. One being Portia Woodman, a professional female rugby player from New Zealand who was named World Rugby Women's Player of the Year in 2017. Woodman also played in the 2016 Olympic Games held in Rio De Janeiro, Brazil.
When asked about her future in rugby Riekena responded with "I'm hoping after West Point I could go to the 2024 Olympics."  After college she aspires to further her rugby career and play for Team USA.