FFA, Cosplay And Laurel's Future
Laurel Schmidt, Working her way to the top
May 31, 2018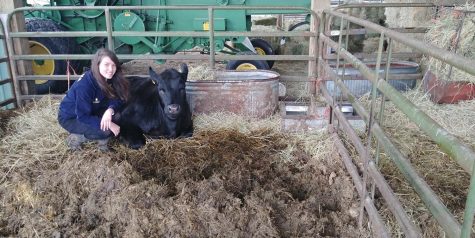 Everyone starts out the same in school; everyone is equal. Throughout the years, personalities manifest and people go from being creatures without inhibitions to young people with thoughts of how the world spins and the long life that's sitting in front of them. School gives young people an opportunity to learn things and a chance to sculpt their own minds to be good at what they are learning.
For Laurel Schimidt, that is simply who she is, in the sense that she has different interest that are very if not completely different from each other. It's FFA (Future Farmers of America) and her senior project, cosplay costumes.
The FFA is a program that gives high school students an opportunity work with livestock and farmland and an opportunity to learn life skills and take on responsibility for instance raising an animal to sell. The FFA also teaches finance so you can be successful when selling and buying animals. These are only a few of the many ways that the FFA teaches people to handle things with care and to be accurate.
"Before I discovered the FFA I wanted to do something with animals. I mostly wanted to be someone that rescues animals," said Laurel. "Soon after, during a high school visit, I discovered the FFA. I thought this would be a good program for me for me to know how to handle and take care of animals but soon it transpired into something more," Laurel added.
There is a misconception about the FFA. The FFA is often seen as a class for country kids when in reality anyone can and should participate in it, even just for one semester. Not just for the life skills that the program teaches you but for the life lesson that if you start something you should finish it. If you get this concept down, along with the concept that you can get good at what you are trying to do, you can accomplish a number of things, like getting a scholarship or completing a senior project.
"In my project I learn how to sew cosplay outfits (outfits made to represent characters from TV shows or in some cases a book series) from my mentor Erika Noble. My goal is to make four successful cosplays for four people including myself from the American anime RWBY (Red, White, Black, Yellow)," said Laurel. RWBY is a anime show that is set in the fictional world of Remnant, where young people train to become Huntsmen and Huntresses to protect their world from the creatures of Grimm.
"Then I will take pictures of the cosplayers in public which will get me out of my comfort zone of being so shy, and then show them off at the Missoula's sci-fi convention Miscon (A four day fantasy convention that takes place in the Holiday Inn every Memorial Day weekend)," said Laurel.
Many people see senior projects as a mark for a few things. One being the end of high school or school in general and two being the start of officially being an adult. For others the senior project marks the start of more school and in turn more responsibility. But school is not always the sole purpose for more responsibility. A lot of the time more responsibility comes from working jobs.
These scenarios are common for plenty of high school graduates but there are the few out of the many that don't do either, but rather use that time in transition from childhood to adulthood to gain experience. Experience that will last as long as they live in the world doing jobs or apprenticeships in fields of work that that person thinks they would contribute factor and thus add to knowledge in today's vast generation. "I plan to take a gap year and learn some life skills, go job shadowing in desired jobs and work. Afterwards I plan to go to college, possibly MSU," said Laurel.
"I either plan on taking studio arts or farm business," Laurel added. So for those that think the FFA is not for you give it a chance. It can only do good in your life and the skills you will obtain can and will only help in life.
"There are many opportunities that you can achieve in the FFA that can help you in your career in the future, take that chance and try it out, you can discover many things you might not even think you would be passionate about," said Laurel.
So if you're a person that is in to trying new things then do as Laurel says: "Take that chance and try it out."
You never know, you may end up liking it.